Sorry Guys for the late response.
I was on vacation with no internet access.....bittersweet. The project is moving along now.
I had to hold off anyways because I needed to order some router bits.
1) Long upcut 1/4" spiral for doing the 1" mortises in the legs
2) 1/4" beading bit for the bottom of the aprons.
Building the jig for the routing the mortise was a bit of trail and error. More error than trial in my case, but I got it in the end. I did have a FAIL with the router bit I waited a almost a week for as you will see.
This is the mortise jig I made. There are 2. One for each side of the leg. I was not able to make it as perfect alignment off the top of the leg as I wanted but was able to correct all issues with a bolt that moved the jig in and out. The mortise slot on the jig is 3/4". I am using a 1/2" bushing in the router plate and a 1/4" bit. It gives a perfect 1/2" wide mortise. The slot on the jig is 3-1/4" long and makes a mortise 3" long on the money. The apron will be 4" long. So 1/2" overhang on top and bottom and minimum 1/8" on the sides if I go with 3/4" thick apron...but I plan to leave them heavy.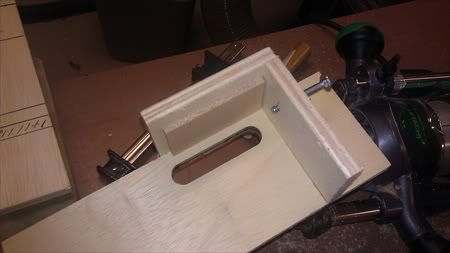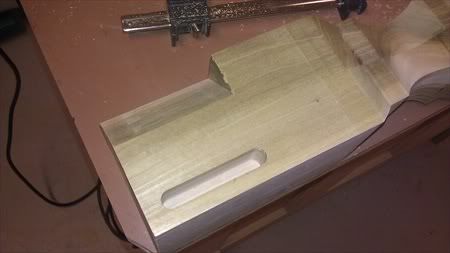 I have to tell you about a tap set that I got that is the best thing since sliced bread. Made by Greenlee and very high quality. This was used to drill and tap the wood in about 3 seconds. No joke. Definitely worth checking into if you need a set.
This was the result of cutting the first mortise in my pine leg I did as a mockup. It could not have been more than 15 seconds of use before this happened. It hurt, because this is the bit I waited a few days for to start. It was the only 3" long 1/4" spiral upcut I could find....and it snapped like a twig. It is however, not a carbide but a HSS bit...so the cash outlay was not that bad...its the time that set me back. To their credit they have shipped me a new bit. I was taking a 1/4" deep cut when this happened...I know its a steep cut...but it was soft pine.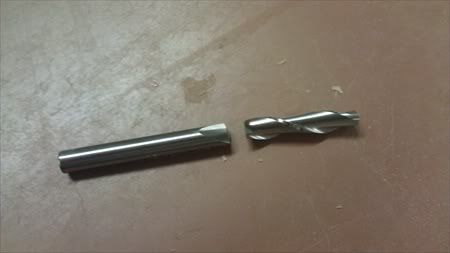 So even though the new bit is in the mail I went out an just bought a another bit. This time a solid carbide. It was only 2-1/2" long so it was really tricky getting a 1" deep mortise in the legs...but I got it. When the HSS bit arrives I will put it through another test and see if it was a fluke or if they really are not strong. It seems the carbide bit went close to a 1/4" with no problems in poplar a couple times.
This is where I am at now. I just have to cut off the bottom square on the leg and start cutting my apron tenons. I should be milling the Cherry for the top shortly.